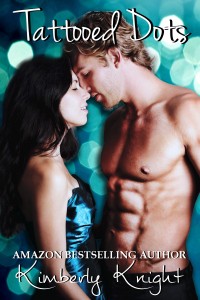 Fans always ask and want to know why we write the books that we do. I can't speak for every author, but I wanted to tell you why I wrote Tattooed Dots and why it holds a special place in my heart.
Some authors, especially me, write what they know. It's easy. I never thought that I had an exciting life, but as I've written my current books, parts of me have appeared in the stories. Like for example in Where I Need to Be  book one for my B&S Series, there is a scene where Spencer texted her friend Ryan that there was a hot guy on the treadmill next to her and she says, "OMFG, I have my very own Gideon Cross at the gym. Hot guy running on the treadmill next to me! 🙂". I actually did that with one of my friends.
Tattooed Dots is different though. If you're friends with me on Facebook, you might know that I had a tumor removed March 1, 2013 and went through radiation in June 2013.
I got the idea for Tattooed Dots when I was laying on the table undergoing one of my radiation treatments. As you can imagine, radiation wasn't easy. Radiation doesn't physically hurt during the treatment, but laying on a table for twenty minutes a day (sometimes longer if they can't line you up correctly) with your breasts pointing to the ceiling while male technicians administered the dosages—sucks! It was one of the most uncomfortable experiences of my life.
I don't want to spoil the book for you. There is way more to the story. When I started writing it, it was supposed to be a standalone, but the characters just kept wanting me to write their story and there was no way I could fit everything in one book.
I'm really excited for you to read Tattooed Dots! While writing it, my beta readers and I picked muses for Brooke and Easton. For Brooke, we picked Jenna Tatum and for Easton we chose Robert Buckley. Man…that guy's body! Mmmmm!!! You can check out my inspirational pins on my Pinterest board if you like.
So, now you know. Tattooed Dots is more than a story for me—it's actually a part of me. On February 11th, you can meet Brooke and Easton when their story goes live! You can also pre-order Tattooed Dots on Amazon by clicking here!
—Kimberly
***UPDATE***
Tattooed Dots is now live!